Missionaries
FPC Supports These Missionaries
Click on the Highlighted names to view the missionary's blog or e-mail.
Click Here to view our Missionary Map.
Africa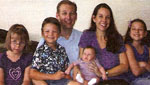 Kurt and Marlene Schimke - Kampala, Uganda
Kurt has had a life-long interest in flying, and after graduating from college, served as a missionary pilot in East-Africa in the mid-90s. He returned from Africa to enroll in New Geneva Theological Seminary in Colorado Springs, Colorado. Dr. Palmer Robertson, invited Kurt to join the faculty of African Bible University in Kampala, Uganda where Kurt has taught for several years. Marlene serves as Dean of the women students. They have four children, three daughters, Zoe and Ana, Lexi, and a son, Nicholas.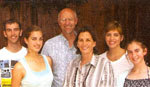 - Cape Town, South Africa
The Smuts family are native South Africans. Peter was asked to join the faculty of the Bible Institute of South Africa, in Cape Town, after receiving his Ph.D. degree in theology at Westminster Theological Seminary in Philadelphia. Peter has been teaching for the past sixteen years at the Institute which celebrates its 90th year anniversary in 2013. Peter's first book, a commentary on Mark's Gospel, was published in 2012. He and Dagmar, recently celebrating 30 years of marriage, have four children, Jason, graduated from medical school, Marisa, Danica, who plans to get married in 2013 and Alexandra will finish high school. Our church started supporting the Smuts family in 1998.
Asia
- South East Asia
Wayne teaches short-term courses at the Myanmar Bible Seminary which he helped found in 2003. Most of the students come from churches in isolated areas of the mountainous part of Myanmar (Burma) who have no training in theology and little or no prospects of such training. Wayne and his wife Ann are working to meet this pressing need in the Christian church in Burma. When not in Myanmar (the government only allows them to stay for a period of weeks), they live in Birmingham, Alabama. Both Wayne and Ann travel to Myanmar several times a year to conduct these short-term sessions in this country where ninety percent of the 50 million inhabitants are Buddhists. All Western missionaries were expelled from the country in 1966. Wayne and Ann have four grown children, all married. This church has partnered with them since 1991.

Michael and Pearl Oh - Nagoya, Japan
The Oh family became a part of our missionary family in July, 2007. A gifted Korean/American, Michael was reared in this country by Christian parents. They now serve in Nagoya, Japan as part of a MTW team. Michael founded Christ Bible Seminary in 2004, a school rooted in the Reformed faith and open to students from other denominations. Its first graduating class was in 2008. He also started what is called Heart and Soul, a ministry to younger people, meeting regularly in downtown Nagoya. Over 150 young people are involved in this Gospel ministry, making it one of the largest such ministries in Japan. Michael and Pearl have four girls, Hannah, Mikaela, Eowyn, Elliott and one son, Michael Jr.
Eastern Europe

Melinda Wallace - Kherson, Ukraine
Melinda is FPC's only Missionary Associate living and ministering in Ukraine. Early on she was involved in church planting in Florida which later led to short term ministry in Ukraine. This in turn meant a long term commitment as a career missionary with a MTW, church planting in the city of Kherson. Melinda and others have already been successful in planting a church in Odessa. At the end of 2012, the young man who has been preparing to lead this church will be ordained and with that, Melinda's team will be seeking another place of ministry. We have partnered with her since 1998.
Europe
- Europe
Al serves as a member of the staff of Redeemer PCA Church in New York City where his title is Global Network Coordinator – Church Planting Catalyst. He travels all over the UK and Europe finding men to pastor churches in the major cities of Europe. He writes that he is encouraged by what he sees God doing, often in those areas regarded as a desert for the Gospel. Al and his wife, Rene live in Boca Raton, and are parents of three adult children, Peter, Rebecca and Casey. We began our partnership with them in 1998.
- Vienna, Austria
Brad is a native of Ft. Lauderdale, FL and grew up in a believing family. He studied German and International Studies at the University of Notre Dame and spent his sophomore year at the University of Innsbruck, Austria. In 1996 Brad met Stacey, who was visiting Vienna. They were married a year later. Brad completed studies at Knox Seminary in 2000 and served as Assistant Pastor of his home church, St. Andrews (PCA) and then as Associate Pastor. During these years Brad and Stacey were actively involved in the church's mission program as well as the youth and college ministry. They began their church planting ministry in Vienna in the summer of 2007. Their three children are Luke, Abby and Levi. We began our partnership with them in July, 2007.
- Berlin, Germany
Ken was born in Germany where his parents served as missionaries. After graduating from seminary in 1984 he pastored Community Presbyterian church in Palm Harbor, Florida for seven years. Since 1993 the Matlacks have been leading a church planting team in eastern Berlin, with a goal of seeing a church planting multiplication movement begun there. Ken was asked to serve as International Director for Europe with Mission to the World in 2009. Tammie is from Columbus, Ohio and a graduate of Clearwater Christian College. They have two grown daughters, Caitlin and Evangeline and several grandchildren. Our association with the Matlacks began in March, 2001.
- Marseille, France
Nelly and her husband David, were missionaries in France, working among the Muslim population when David died in May, 1999. Nelly and their three daughters stayed in France (she is a native of France) where she continued as part of the MTW church planting team with the goal of reaching Muslim immigrants living in France with the gospel. Later Nelly was asked to serve at the Aix-en-Provence Theological Seminary, the only reformed seminary in France where her major responsibility was recruiting students. Now Nelly is working at the Evangelical Reformed Church in downtown Marseille, located in a low-income neighborhood. Her three daughters are Helene, Anne-Claire and Heidi. All three graduated from Covenant College. Nelly has been a part of our Missionary Family since October, 1998.
Haiti
- Haiti
The latest to join our Missionary family, these two are native Haitians who came to this country in the early 90s. They met in Miami were married, and later Pastor Esaie attended Reformed Seminary. He was ordained a Teaching Elder in the PCA and was involved in church planting among Haitians in south and central Florida. They decided to move back to Haiti but after several severe natural disasters, returned to south Florida. Their ministry is church planting, leadership training and mercy ministry which includes a school for children, a medical mission, and a children's home. Pastor Esaie travels to Haiti each month to minister there. They have three sons, Ishtyler, Isaiah Jr., and Ishmaiah. Natacha joined our church in 2011.
.com">Dony and Sharon St. Germain';h755377051='mail.vresp.com';document.write('' + linktext + ''); - Haiti
Dony is a native Haitian and Sharon is Jamaican born. They lived in Miami for a number of years and have been instrumental in starting three Haitian PCA churches in the Miami Haitian community. Dony combined leadership of the El Shaddai Church in Miami along with El Shaddai Ministries which plants Haitian churches in major American cities. The St. Germains and their associates also plant churches in Haiti. In the past 17 years six Haitian churches have been planted in Florida and Illinois. Over 100 men have been theologically trained in Miami, and another 20 non-PCA churches planted in the US. They have planted over 48 churches in Haiti and are training 200 men and women for the Gospel ministry. Pastor Dony and Sharon adopted twin girls into their family and later decided to move back to Haiti in 2009. This family has been part of our Missionary Associate team in September 1998.
Latin America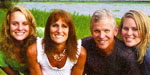 Craig and Heather Gahagen - Pucallpa, Perú
Craig was raised in Peru by his missionary parents. After finishing his education in this country Craig and Heather returned to Peru where Craig's major ministry is flying people and material in and out of the Peruvian jungles to places only reached with great difficulty. Heather fills equally important roles as radio contact, school teacher and administrator. Several years ago, a small Bible study grew out of relationships built through their interest in motocross. Now this has grown to a church with nearly 300 members. Craig serves as an elder in this church. Their eldest daughter Whitney graduated from Miami University and Kara graduates in the spring of 2013 from Covenant College. Craig and Heather have been supported by First Presbyterian Church since 1992.
- Latin America
Originally from Puerto Rico, Woody and Carmen have lived in Atlanta, GA for a number of years. Woody is a PCA Teaching Elder who has been traveling throughout Latin America including Cuba, and more recently Barcelona, Spain. He has retired from Evangelism Explosion and presently works with Knox Seminary doing theological training in Spanish-speaking areas. They have two married daughters, Mariselle and Iris and a son Juan Cecilio. Woody began partnering with us in 1994.

Michael and Robin McMahan - Quito, Ecuador
This family served as short-term missionaries in Guayaquil, Ecuador church planting for two years, where they saw the need for both word and deed ministry. They attended the Chalmer's Institute for training in micro-economic development and returned to Quito, Ecuador and initiated several savings and loan groups. After MTW decided to close its work in Quito, Mike and Robin have been assigned to help in church planting under the leadership of the Bulawayo Presbytery in Bulawayo, Zimbabwe. The McMahans have four grown children, William, Wendy, and twin daughters, Whitney and Waverly. Our partnering with this family began September, 2006.
Puerto Rico
- San Juan, Puerto Rico
Joe and Beverly have been missionaries with Mission to the World since 1997. After their appointment Joe taught at the Presbyterian Theological Seminary near Manila, Philippines where many graduates engage in church planting. With his Latin background (Joe's mother is Puerto Rican) the Fitzpatricks were later re-assigned for ministry in Puerto Rico, the only MTW family presently in that country. They have lived in San Juan for six years where Joe is involved in teaching courses in Old Testament in a variety of venu. They have three children, Joey, Anna, and Justin. The Fitzpatricks joined our missionary family in 1998.
USA and Canada
- Fort Collins, CO
Raised in Japan the son of missionary parents, Steve has served at different times as missionary, pastor, university professor and missions executive. He is presently vice-president for staff development and training with Church Resources and travels the world in his role of mentor especially of candidates for mission service. He also consults with churches throughout North America and overseas. He and his wife Eloise (a retired teacher), live in Colorado. Their two children, Stephanie and Chris, are both adults. This church has partnered with the Hokes since 1993.
E-mail:
- Orlando, FL
Ande grew up in Naples, Florida the youngest of three sons. During his growing years he worked in the family moving business later following his brothers to University of Central Florida on a baseball scholarship. He met Kelly, his future wife, and they were married in December, 2002. After graduation Ande enrolled in Reformed Seminary and earned his M.Div. degree. He started at University Presbyterian Church (PCA) as Director of College Ministries later to move on to start a RUM (Reformed University Ministry) ministry at UCF. They have two sons Owen and Knox and an adopted daughter Harper. Our support of this family began in July, 2006.
- Atlanta, GA
Pastor Koh was converted to Christ while studying at university in this country. After a few years in the business world he received his call to Christian ministry. He served a Korean/American church in Philadelphia as pastor for 27 years. Mission to North America asked him to leave his church in order to oversee the work of planting and stabilizing Korean American PCA churches throughout this country. There are over 1.5 million Koreans living in America. They have two grown daughters, Grace and Joy. The Kohs have been partnering with us since 1998.
- Mt. Hermon, CA
Rusty received his under-graduate degree from Duke University and an M.A. in religion at the International School of Theology. After serving with Campus Crusade Rusty began a ministry of speaking and writing. He has authored four books and speaks each year to many university students at major campuses and at conferences across the United States as well as overseas. He has been doing this for more than 25 years. Beside his heavy writing and speaking schedule he also travels to other countries as a convention, radio, and TV speaker. He is close to being fluent in Spanish and uses part of his time writing books and articles for publication in that language. Rusty and Meg were married in May, 2000. Our partnership with Rusty goes back to 1993.
- Montreal, Canada
This couple was introduced to us in 2001 as church planters in Montreal, Canada, the second largest French-speaking city in the world. There are well over three million people living in this city but less than 1% of them are evangelical Christians. For this reason, JG and Daryl are planting the Eglise St-Jean church in the heart of the city. The church was founded in 1998 to be a gospel-driven, city oriented, church planting church. JG has a full schedule as pastor, teaching at Farel Theological Seminary, and his Army Reserve chaplaincy. The Zoellners have six children, all of them grown. This family has been a part of our church Missionary Family since January, 2002.